Back to all posts
Posted on
Steve Harmer Motivational Magic at CLES!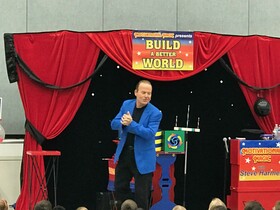 Magic with a Message
Magic captures the imagination of both young and old. Colorful props, juggling, rabbits, doves, music and laughter engage us at both a heart and a head level. The fun, excitement and mystery of illusions, tricks and puzzles when applied to teaching concepts make the content memorable. Magic helps make an abstract concept concrete and therefore easier to understand. The use of object lessons, and graphic visual aides support the current "brain research" as well as work in "multiple intelligences".
CLES wants to send a BIG THANK YOU to Steve Harmer for inspiring our kids with his GREAT message and FUN presentation!