Back to all posts
Posted on
CLES Reads with the Cold Lake Jr. B Ice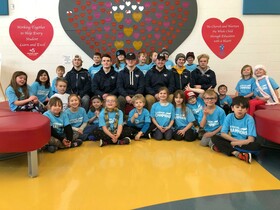 Cold Lake Elementary students got to enjoy a treat with members of the Cold Lake Jr. B Ice last week! 
All the classes read so many books and the class that had the highest total was 3G and they won a pizza party!
So far this year students at CLES have read 60016 books!
Congratulations on earning a READING CELEBRATION!!
Remember to keep recording your reading totals in your agendas.