Back to all posts
Posted on
Important First Day of School Information!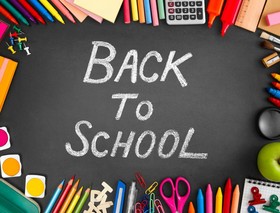 Important First Day of School Information!!!
Dear Cold Lake Elementary School Parents,
We are so excited to see our students back at school and we welcome all or our new students and families!!!  The first day of school is Tuesday, September. 4, for grades 1 - 4 students. The students can arrive anytime after 8:05 a.m. (since supervisors will be ready to greet them). Students/parents can enter through the front doors and our excited staff in the "flex area" will guide you to your child's new classroom to drop off backpacks and belongings.  Thereafter, students will head outside until the bell rings at 8:30 a.m. and come inside to their homeroom classrooms to begin their day with their new teachers.
On this first day of school, we ask parents to please ensure that your child's new teacher knows how your child is getting home this first day, and how your child is getting home for the rest of the year (bus, parent pickup, or walking home). The teachers will have a poster in their classroom that you can write this info on, but if you're not with your child on this first day, you can write the teacher a note. If you don't know your child's bus 'route' on that first day, teachers will know what it is.
Kindergarten students start school September 6/7 with staggered entry, and ALL Kindergarten students officially come to school on September 10! We can't wait!  
For all K-4 students, the CLES school day is as follows:  8:05: supervisors are on our playground, 8:30: first bell rings, Lunch recess: 11:35-12:07, Lunch: 12:07-12:27, Last recess: 2:00-2:15, and Hometime: 3:15.
Parent pick up/drop off area is on the west side of the school, and for safety reasons, we ask that you please get out of your vehicle and walk your child to the sidewalk when dropping them off.  At pick up time, to keep our children safe, again we ask you to please get out of your vehicle and pick up your child who will be waiting for you on the sidewalk near their grade level pylon. You are also welcome to wait in the flex area for your child at the end of the day (inside the school near the front doors) and at 3:15 p.m., your child will meet you there. For the first day of school and for all school days, please let your child's homeroom teacher know where you'll be waiting for your child (either outside pick up area, or inside at flex).
For any other inquiries and information, please use our website for updated posts and the website calendar, or call our school office 639-3107. You can also email our CLES staff -  email addresses are on our website. Info about our digital communication tool (School Messenger) will be coming soon!
We are looking forward to seeing all of our wonderful CLES children and families on the first day of school! Please note that our Meet the Staff BBQ Night will be on Thursday, September 13, from 6:00-7:00 pm and we look forward to seeing our CLES families there!  A short School Council meeting will follow to start the year!
All parents are welcome to become a member of our School Council/Parent Advisory Committee (PAC) which is a great way to become involved in your child's education and fundraising initiatives (i.e. field trips for students, raising money for two recently installed playgrounds, etc.)!  We thank you for all your support!
Love,
CLES Staff