Back to all posts
Posted on
First Week of School Update!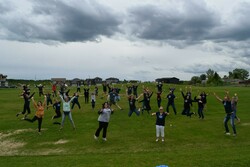 Dear CLES Families,

Teachers are back to school as of yesterday and we are excited and busy getting ready for our AMAZING students arriving next week!!! Today, teachers started calling home to parents to introduce themselves, discuss the "First Day of School" routine, answer your questions, and most importantly explain the COVID Safety procedures we will be following to keep your child/ren and our staff safe.  If you did not hear from your child's teacher on Friday Aug 28, you will on Monday as they have a high volume of calls to make, with a lot of information to share, including changes made to our normal routines. Thank you for your patience as we work hard to contact all 460 students' families!!  Kindergarten teachers are also calling parents Friday and Monday to discuss interviews, explain staggered entry dates, etc.

Due to COVID safety protocols such as physical distancing, avoiding congestion, hand sanitizing, and staying in cohorts - a big change to our schedule is that we will not be able to open up our playground in the mornings for all 460 of our wonderful students - the playground will be closed before school.  This means our drop off time is changed to 8:30 - we understand this poses a challenge for parking in our 'Pick Up/Drop Off' parking lot, so we'll be encouraging parents to also park on 16th Ave, and 8 St, and walk students to their designated entrance doors. Please DO NOT park in our CLES bus lane or teacher parking lot.  Some buses will drop students off at 8:15-8:30, but drop off times for everyone else will be 8:30. This will help us stagger the arrival of students to eliminate congestion. More details about this will be announced shortly.

Some important CLES dates to remember:

Staggered Entry Dates For Grades 1-4 Students:
Sept 1 (last names A-K)
Sept 2 (last names L-Z)
Sept 3 - All Gr. 1-4 students attend school

Kindergarten:
-Kindergarten Interviews for student and parents: Sept.1 & 2 (teachers will call, so that you can choose a 15 min time that works best)
-Staggered Entry Dates for Kindergarten: Sept. 3, 4, 8, 9 (25% of each class will attend school these days, teachers will let you know when your child will attend)
 -Kindergarten For Every Student: Sept. 10*We realize our Kindergarten start dates differ from the NLPS information sent out, but due to our high volume of students registered, we need to make this adjustment!

Preschool:
-Starts Sept. 14 - Preschool will be contacting parents who have registered children.

Out of School Care:
-Starts Sept. 1

By tomorrow morning, we will be sending out a more detailed message to CLES parents with important info and reminders - stay tuned to school messenger, CLES Facebook and our website for this message!    

Have a great weekend!!!!!! 
Love, Mrs. McKale & Staff