Back to all posts
Posted on
Welcome Back to School!!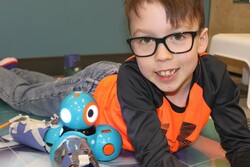 Happy New Year to all of you!! Thank you to everyone who has been able to participate in our week of online learning - we are so proud of our students for their hard work this week!

Here are some CLES reminders:

1) Family Friday is this week, Jan. 8, so there is no school/no learning online this day.  FYI - Friday, Jan. 15 is now a school day, and is no longer a Family Friday.

2) Onsite learning at CLES will (hopefully) resume on Monday, Jan. 11 for all of our CLES students! Yay!!!!

3)  A reminder to please drop your children off at 8:30am; students then enter through their assigned doors.  Students arriving to school after 8:40am, are marked as late and must enter through the front door, as all other doors are locked by then. At the end of the day, we kindly ask all parents to physically meet and pick up your child(ren) from our parent pick up area, as students are not permitted to walk through the parking lot alone unsupervised. Student Safety is our top priority - thank you! 

4) Hot lunch orders are due tomorrow, Jan. 7 - please order through school cash online. Hot lunch is provided by Emma's and is offered each Monday and Wednesday. 

5) We love hearing that our students are finding time to read every day at home!!!! Please have book totals for your child tallied every week in their agenda, as we continue to celebrate our grand total of books read by all CLES students!.  We are trying to reach our goal of 30,000 books read. We can do it, CLES!!!!

6) Our school clothing online store is still up and running for the rest of the school year! Check out our new Heartly masks...Sweaters and t'shirts are available too, in youth and adult sizes! On the last day of each school week (Fridays, and sometimes Thursdays) we will have a "school colour/Heartly day" to celebrate CLES School Spirit! Students are invited to wear these school colours (blue, grey, red and black!) or their Heartly clothing! *K3 Promotions creates our school clothing and they will call you when your order is ready for pick up (turn around time is about 2-3 weeks). Visit this link here for the CLES school clothing online store! https://clesonlineapparel.itemorder.com/
*New CLES toques can be purchased through School Cash online!
Thank you!!!!
Stay Safe Everyone!
CLES Staff