Back to all posts
Posted on
See you on Jan. 10th!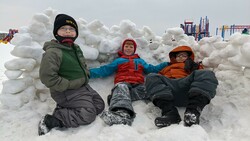 Happiest New Year! We hope everyone has been staying warm and safe! We have really missed our students, and we can't wait to see everyone on January 10th when we return to in-school learning. Here are some reminders as we head back to school on Monday:
To ensure the continual safety of our students and staff:  Please make sure your child is healthy before coming to school. Continue to complete the Alberta Health Daily Checklist and follow the instructions included in that document. We continue to ask that all parents and visitors to the school please wear a mask and use the front entrance. Parents are allowed in the office area of the school to drop items off for your child.  If you need to speak to your child we will call the child to the office.
Masking protocols: 
a) The province will be distributing new medical grade masks for students and staff beginning next week. They are recommended for use, however parents can choose to continue using cloth/disposable masks as before.                                                   
b)Masking guidelines for our students are the same as they were before X'mas: K-3 students are to wear masks on the bus and in all non instructional common areas. Gr. 4 students wear masks on the bus and in all learning areas. More information on COVID mask protocols can be found here: COVID-19: Mask requirements.
COVID Rapid Test Kit Distribution: CLES will be receiving rapid test kits for all of our students.  When we receive these, we will let you know how we plan on distributing them to those CLES families interested. These tests will be for at home use only. We won't be administering any tests here at school.
Hot Lunch - if your child had Hot Lunch ordered for the week of Jan 3 when school was cancelled, you should have received a refund this week. Hot Lunch will continue on January 10th.
Learning time for CLES: 8:35-3:15
Upcoming Family Friday: January 14
Morning Drop-off: 
-Please drop-off or have your children arrive at school between 8:20 and 8:35
-Doors are not open for students until 8:20 as that is when supervision begins
-If students are dropped off before 8:20, they need to be prepared to be outside until the bell goes without supervision. This was the same procedure during the fall. This would include on bus cancellation days.
-Unfortunately we are not able to provide early supervision, including in the office, and I apologize for any inconvenience this may cause.
 Afternoon Pickup:
-Schedule is as follows: K - 3:00, Gr.1 - 3:05, Gr.2 - 3:10 and Gr. 3&4-  3:15
- It is very important to have all students picked up by 3:20 at the latest as we don't want students and staff exposed to these very cold temperatures for an extended period of time.
-Sometimes things happen and if you know you're going to be late, please contact the office or homeroom teacher and then we can have you pick them up from the office.
CLES Links for more school info: 
If you have any questions or concerns, please contact us in the office by calling 780-639-3107. Check out our CLES Facebook page and Website for all the latest news.  
We look forward to seeing everyone on Monday!
Mr. Chris Vining - Principal
Mrs. Natalie Ogrodiuk-Whaley - Assistant Principal