Back to all posts
Posted on
CLES Winter Concerts: Dec. 14 & 15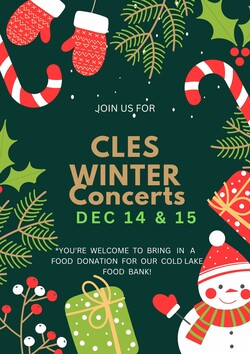 In this year of 'first time in a long time' we are happy to announce that we will be having our first in person Winter Concert since 2019!!
The concert will be spread across two nights to try and alleviate traffic and crowding to the best of our abilities. Half our classes will go on Wednesday Dec. 14 and the other half will be on Thursday Dec. 15th. Both nights will start at 6:30. Doors will open at 6:00 pm. Students will need to be in their classrooms by 6:15. We will be doing the same show on both nights.
These are how the classes will break down over the 2 nights.
| | |
| --- | --- |
| Wed. Dec.14 |      Thurs. Dec.15 |
| KW1&2/KO |            KP 1&2 |
| 1B   1C |       1D, 1M, 1W |
| 2B   2C |           2M  2W |
| 3L    3W |            3G    3S |
If you have children that are scheduled for both nights, PLEASE PICK ONE NIGHT THAT YOU WOULD LIKE TO ATTEND,  notify your children's classroom teachers so they can arrange a different class for them to join.
For example, your kinder is in KO but you gr. 2 is in 2M. So you pick Wednesday to attend. You would notify Mrs. McMillan in 2M and she would arrange for your child to join 2B/2C on Wednesday.
If you have any questions please contact your homeroom teacher or the office.
Regards,
Chris Vining, Principal     
Natalie Ogrodiuk-Whaley, Asst. Principal