Back to all posts
Posted on
New Literacy Bingo starts today!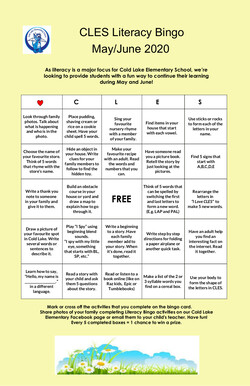 New Literacy Bingo starts today!
As literacy is a major focus for Cold Lake Elementary School, we're looking to provide students with a fun way to continue their learning during May and June! Mark or cross off the activities that you complete on the bingo card.  Share photos of your family completing Literacy Bingo activities on our Cold Lake Elementary Facebook page or email them to your child's teacher. Have fun!  Every 5 completed boxes = 1 chance to win an Emma's Gift Card prize. This contest will end on June 19.  Have fun, everyone!