Back to all posts
Posted on
Over $1700 raised by CLES families for the Terry Fox Foundation!!!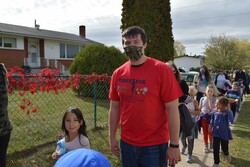 We cannot believe the amazing participation by CLES families on our Terry Fox walk today! So many parents and grandparents joined us (hugs to you all for helping !) We even had the Cold Lake Fire Rescue team & their firetruck visit us!! (Preschoolers heard the firetruck horn honk 3 times!!!!) We also want to thank Peace Officer Simon Crevier for helping us cross the road safely today!
We raised the most money we've EVER collected for our annual walk, and we thank you ALL from the bottom of our hearts for your generous contributions!! In fact we are still counting the money! Right now our total is over $1700.00!!!
School cash Terry Fox donations will be accepted until Sunday night.
Once again, thank you students, staff, and families for making this such a successful event!  Please check out the photo gallery below to see our Terry Fox Walk pics.
Yours Truly,
Mr. Vining & Mrs. Ogrodiuk-Whaley