Back to all posts
Posted on
CLES Terry Fox Walk - Sept.24!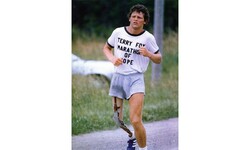 Terry Fox never gave up and neither will we!! On Sept. 24 CLES will show our spirit to continue Terry Fox's dream of a world without cancer!  
At 2:00pm, Grade 1-4 students and staff will walk around our neighborhood using the Forest Drive loop we've used in the past.
Our Kinder students will walk in our backyard at a time that works for them. Kinder teachers will let parents know when they're walking!
We will be collecting donations for the Terry Fox Foundation to support life-changing cancer research! CLES will try to raise $200 for Cancer Research! Students are welcome to bring in donations by Sept 24 (even a loonie or toonie is awesome!)
Families can also make donations through School Cash Online! 
This week and next week, students will learn about TERRY FOX's courage, compassion and determination during their Learning Commons visits and from their teachers. They will be decorating a Terry Fox running shoe and these shoes will be displayed throughout the school.
Permission forms for Gr. 1-4 will be sent out for our walk. Volunteers are welcome as this is an outdoor event. Please, no dogs allowed. 
Thank you, everyone, for helping us continue Terry's fight and his dream!
"I want to set an example that will never be forgotten."
Terry Fox