Back to all posts
Posted on
Staggered Entry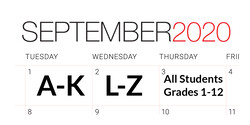 All NLPS Cold Lake schools will be doing staggered on September 1 and 2 for students in grades 1 to 12 by last name.
September 1: Last Names A-K
September 2: Last Names L-Z
If these dates do not work for your family please contact your school to see if a different day can be arranged.
Kindergarten parents should be contacted by their child's for their interviews and staggered entry days by the end of next week.