Back to all posts
Posted on
January 2023 - Self-Care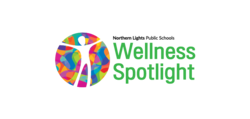 Check out the Family Self Care Challenge at the end of the blog for a chance to win a Family Self-Care Basket. 
Welcome back to a New (School) Year! I hope your family spent time during the Holidays together cherishing special moments, making memories, and taking time to acknowledge all the things (big and small) you are grateful for. 
January has been deemed self-care month by Northern Lights Public Schools, and the staff have been hard at work gathering great resources in order to promote and support student mental health.  Take this month to focus on yourself and/or your family's well-being.
This month I have been going to the classes to talk about Self Care and ways we care for our physical health and our mental health. Self-Care boosts self-esteem and promotes positive relationships with those around you.  In kindergarten and grade 1 students have learned about self care and may have already brought home their picture of what they do for self-care. In Grade 2 and 3 we talked about self-care, and how self-care and healthy coping skills can help when there may be things that they are finding hard right now. 
Here is a video that you can watch as a family to teach your kids what self care is: Self-care Just For Kids! 
Teaching kids what self-care is when they are young can instill positive habits that they can practice as they grow older.
Mindful - Mindfulness for Kids Mindfulness, being present in the moment and not stressing about the future or the past is a skill that takes practice to become good at. This website provides meditations as well as mindfulness activities to try with your children.
Below is a short article that describes simple self care habits that I hope you can implement as part of your daily routine
11 Simple Self-Care Habits for Kids
Take a look at this read aloud of another self-care book, and maybe you will find some new coping strategies to have your children try out: ABC Mindful Me Read Aloud - Mindfulness Book by Christiane Engel
*****FAMILY SELF CARE CHALLENGE****: Take a moment over the next couple weeks to take a picture or write what you and your family do for self-care and share with me in the form below and your family will be entered to win a family self-care basket. (deadline to enter is Feb. 7) I will be putting together a collage of everything shared to include in next month's blog. For some ideas take a look at the poster of some of the self-care ideas students shared. CLES Self Care ideas
Enter to win Family Self-Care Basket
For more resources, check out the Self-Care page of the NLPS website.
If you would like me to connect with your child(ren) or family, you can contact me at the school at (780) 639-3107 or by email at haley.reed@nlsd.ab.ca.